You can have your very own fan web site like this one--FREE!
Get 20 meg of web space, yourname.fanspace.com, unlimited free e-mail at your domain and more!
Click here to sign up with FanSpace.com.
---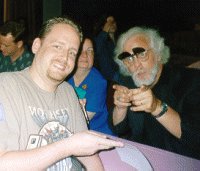 If you want to see pictures I took at previous conventions,
click here
.
---
Sorry, I have not updated in quite a while. I will be doing a major overhaul and update soon, including a search for conventions and a mailing list for updates.

Please check out my new Star Trek parody site:
randomplots.00trek.com.
A good listing of convention promoter home pages
can be found at Chuck's Star Trek Convention Page.

This page was last updated Wednesday, September 12, 2001 .
For more information about upcoming conventions, try a search on About.com: